DID YOUKNOW THAT YOU CAN MAKE MONEY WITH PHONE APPLICATION? 2 PART
8) Ibotta
Ibotta is one of the more interesting apps we found on the web. Take the concept of a coupon code site, mash it up with set tasks members have to complete and, BOOM! You've got coupons on nitrous oxide.
You get the idea? Download the app, choose from a selection of tasks and when you've successfully finished, deals at your favorite retailers will be unlocked. Typically, most of the vouchers have a higher redemption value than those we found on some of the big coupon code sites.
But that's not all! There are two other ways of earning through Ibotta: upload receipts and by linking any loyalty accounts you might have to your Ibotta account.
The receipt upload feature is effectively a cash back option. After scanning the product bar code and uploading a photo, money will be credited to your account.
Linking your loyalty card is another interesting idea. You'll still have to complete a series of tasks but you have the added option of adding points to your card.
9) Money Back From Shopkick
You want a new flat screen TV but you have a dilemma: it's about $200 more than you can really afford to pay. Now, in most cases, the sensible option would be to put off your purchase until you have more money. This is where Shopkick comes to the rescue with a massive selection of incentives.
This app, which is also available for Android devices, gives you incentives; "kicks". Every time you you check in at a specific shop, scan or purchase an item you are rewarded with a kick. These kicks can then be exchange for discounts that are sent out by participating retailers. And if that wasn't enough, you can earn extra kicks from referring friends – the Shopkicks app can send messages to your contact list or connect to your Facebook account (if you allow it).
10) Breaking Into Advertising With Jingit
Let's be fair and admit that, in the grand scheme of life, we're all a little bit lazy. Sure, there's nothing wrong with kicking back and doing nothing every once in a while. But we're always being told that you don't get money for nothing. Well, not unless you're using Jingit.
Jingit is very simple and very effective – simply sign up using your Facebook account. Your profile page will then be used as a kind of digital billboard (Jingit is a paid advertising platform). Don't panic – your profile page isn't going to be littered with hideous banner ads – it's a lot more subtle than that. In return for renting space on your profile page you'll get paid. The amount you get varies depending on how many people click on the ads, but the result is the same – money for nothing.
11) FeaturePoints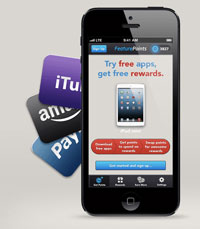 If you're someone who likes to try new mobile apps then FeaturePoints for iOS and Android devices might be worth a look. FeaturePoints rewards you with points for downloading free apps.
As your earned points increase you can redeem them through PayPal, Amazon gift cards and iTunes gift cards. There are also other rewards, such as a referral bonus (you receive 50% of the points earned by anyone you refer).
Be aware that you have to do a little bit more than just install the free apps that you download – you have to use them for up to a minute and complete any available registrations or tutorials.
12) Ebates – Cash Back
With over 1,800 stores and millions of products available in its search engine,Ebates is one of the biggest cash back apps out there. Ebates has been around for some time now and the service morphed from a pretty basic money back site into a behemoth.
Okay, so you get in-store coupons, but what else does Ebate give you? How about hot, daily deals delivered direct to the app? Do you want the latest information on sales and new coupon codes? Yes, they're there too. But what I really like is the ability to create a favorite stores list. Sure it's been done, but I prefer the look and feel of this function over that of other available apps.
13) Receipt Hog
The idea of earning money by simply taking photos of your shopping receipts is a pretty odd concept. It's also the basis for a very real app. The brains behind the app, ScoutIt, are touting it as "a fun and rewarding way to turn receipts from everyday grocery shopping into cash". Fun is probably stretching it a little, but easy? Yes. Very.
Receipt Hog works like this: you go shopping. Grab your grocery receipt and scan it into the system. You get cash back that can be redeemed as gift cards or money. Err, that's it. Simple, eh?
That said, like most companies, Receipt Hog gives you a couple of ways to earn. Paid surveys and there's also a chance to win money through what is called the 'Hog Slot Machine' – instant payouts of up to $1,000.
14) Viggle
Viggle is another great app that rewards your for simply kicking back and enjoying a huge selection of movies and music. All content is available as both streaming media and as a download to your TV, media center of mobile device. The mechanics behind Viggle are pretty simple: download to your iPhone, create an account and then browse for your preferred movies or music.
For every minute you watch or listen to a selected film or song a point is added to your account. Your points can then be redeemed for rewards like music downloads, gift cards and more.