SPORT
KYLE SCHWARBER AS 2017 CHICAGO CUBS LEADOFF MAN BRINGS MORE PROBLEMS THAN GOOD
Kyle Schwarber doesn't look like a typical leadoff hitter. As far as the Chicago Cubs seem to be concerned, that's the genius of it.
Somebody needs to pump the brakes on this idea.
The Cubs using Schwarber, a slugging left fielder/catcher who's listed at 6'0″ and 235 pounds, sounds like a tongue-in-cheek "hey, maybe we'll do this" notion. But the Cubs sound serious about it.
Skipper Joe Maddon said in January that he liked the idea of the lefty-hitting Schwarber leading off, at least against right-handers. The idea has since been cemented in the early days of spring training.
Will Kyle Schwarber actually bat leadoff?!@CubsJoeMadd is seriously considering it. https://t.co/ZiQOTpVmPV pic.twitter.com/VC2KWjNRSP

— MLB (@MLB) February 23, 2017
It's an interesting idea. And when a team fresh off winning 103 regular-season games and the World Series has an interesting idea, it must be taken seriously.
With Dexter Fowler in St. Louis, somebody new has to bat leadoff spot for the Cubs in 2017. And while Paul Swydan of FanGraphs highlighted how rare it is to see a player of Schwarber's size leading off, what the Cubs are going for isn't unprecedented.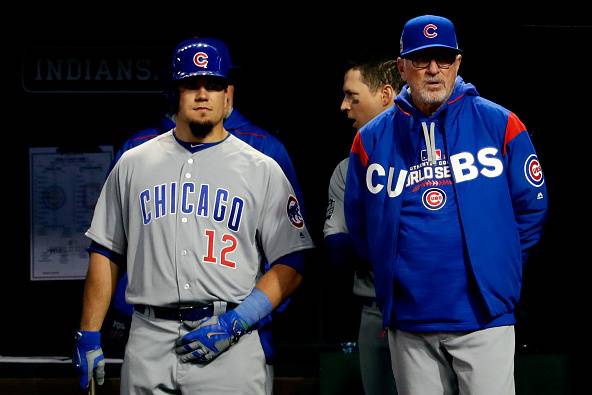 Jamie Squire/Getty Images
"I'd prefer that he subscribe to the Brian Downing method of leading off," Maddon said last week, according to Carrie Muskat of MLB.com.
Maddon is referring to the former Chicago White Sox, California Angels and Texas Rangers leadoff man. Downing only stole 12 bases in 606 games as a leadoff man, but he was successful in the role in large part because he put up a higher on-base percentage (.386) batting leadoff than he did in any other spot.
Much more so than running the bases, the leadoff man's job is to get on base. That's according not just to logic, but also to the actual book on lineup construction.
Here's how Neil Greenberg of the Washington Post broke down one of the lessons of The Book: Playing the Percentages in Baseball:
In "The Book: Playing the Percentages in Baseball," author Tom Tango, now a Senior Database Architect of Statistics with MLB Advanced Media, advocated using a player with a high on-base percentage, rather than one that only steals bases, in the leadoff spot. The logic behind the strategy is simple: batters hitting first in the order see more plate appearances than any other slot, and a player with a high OBP doesn't sacrifice as many outs.
Schwarber can handle OBP. The soon-to-be 24-year-old put up a .429 OBP in parts of two minor league seasons and has a .368 OBP in 85 regular and postseason games in the majors. By way of comparison, Fowler owns a .366 career OBP in the regular season.
But here's the problem: Narrowing The Book's lessons on leadoff hitters down to "OBP is best" is oversimplifying things a bit.
Writing at SB Nation in 2012, Sky Kalkman offered a more comprehensive breakdown:
The Book says OBP is king. The lead-off hitter comes to bat only 36% of the time with a runner on base, versus 44% of the time for the next lowest spot in the lineup, so why waste homeruns? The lead-off hitter also comes to the plate the most times per game, so why give away outs? As for speed, stealing bases is most valuable in front of singles hitters, and since the top of the order is going to be full of power hitters, they're not as important. The lead-off hitter is one of the best three hitters on the team, the guy without homerun power. Speed is nice, as this batter will have plenty of chances to run the bases with good hitters behind him.
There are key takeaways here worth applying to the Schwarber situation.
The first has to do with home run power. With 34 homers in the minors and 21 in the majors, Schwarber has shown a lot of that. I detailed in February how legit it is, as he puts immense raw power into a lofty swing that can blast the ball to all fields.
Or, you could just take his word sound for it:
Having that kind of power in the leadoff spot wouldn't be a bad thing, but it would be put to better use in a position where Schwarber could hit with men on base more often. Multi-run homers are better than solo homers, you know.
Yes, the Cubs could bat pitchers at No. 8, thereby setting aside more plate appearances for hitters at No. 9 to set the table for Schwarber. This is another suggestion found in The Book. To abide by it, Maddon has spoken of using Albert Almora and Jon Jay at No. 9.
But while this sounds fine in theory, the Cubs haven't gotten encouraging results from putting it in practice.
Maddon often used Addison Russell as his No. 9 hitter in 2015 and continued to use hitters in the No. 9 spot in 2016. Yet Fowler came to the plate with men on just 32 percent of the time in '15 and 33 percent of the time in '16. The latter was nothing special compared to most other top National League leadoff men:
Top National League Leadoff Men in 2016
Player
Leadoff PA
Total PA
PA w/ Men On
% w/ Men On
Jean Segura
677
694
211
30
Charlie Blackmon
634
641
213
33
Denard Span
614
637
222
35
Jonathan Villar
565
679
230
34
Dexter Fowler
546
551
182
33
Baseball-Reference.com
As for the baserunning ability, Schwarber scored well as a baserunner back in 2015. But that was before he missed almost the entire 2016 season after tearing the ACL and LCL in his left knee last April. Between that and his size, he'll likely be taking it a base at a time in 2017.
Joe Sheehan brought up a good point (via ESPN's David Schoenfield) in noting speedy leadoff men are less necessary at a time when home runs are more prevalent. In theory, why run when you can trot?
However, even batting in front of Kris Bryant (39 homers) and Anthony Rizzo (32 homers) didn't stop Fowler from putting his speed to good use last season.
Despite playing in only 125 games, he had one of his best years going first-to-third on singles. And he was otherwise par for the course going first-to-home on doubles and second-to-home on singles. Outside of Bryant, the Cubs didn't have a more productive baserunner.
All of this raises the obvious question: Do the Cubs have a better option than Schwarber for the leadoff spot? Maybe somebody with an equal OBP talent, but less power to waste and more speed to take advantage of?
Well, there is Ben Zobrist.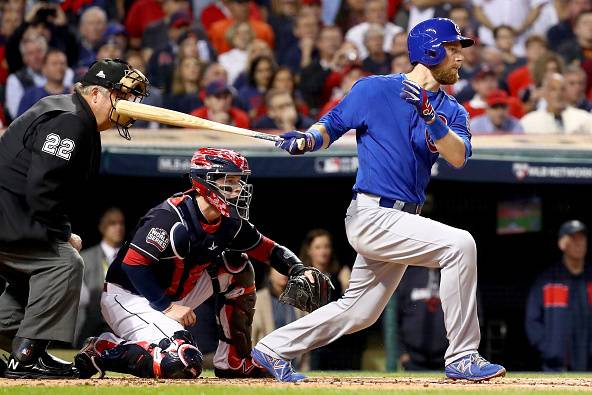 Tim Bradbury/Getty Images
The veteran switch-hitter owns a career .358 OBP and is coming off a .386 mark in 2016. It's no wonder that the ZiPS projection system actually pegs him for a higher OBP in 2017 (.357) than it does for Schwarber (.337). Even if you assume Schwarber will do better, he's probably not beating Zobrist.
Elsewhere, Zobrist has remained a capable baserunner even as he's slowed down in recent years. And with a projection of 14 home runs this season, he's projected to hit half as many homers as Schwarber.
Provided there's a right-hander on the mound, a better lineup construction would be Zobrist leading off followed by Bryant in the No. 2 hole and then Rizzo and Schwarber in some combination at No. 3 and No. 4. That way, the Cubs would have a less powerful OBP merchant set the table for three power hitters.
So, there. I have well-actually'd the world champs. Call it bold. Call it dumb. Either way, it had to be done.