NFL Rumors: DeSean Jackson to Tampa Bay Buccaneers?
Former Philadelphia Eagles wide receiver DeSean Jackson makes his training camp debut as a member of the Washington Redskins. 
NFL free agency starts on March 7, and if reports are true, that will be the day that the Eagles call the agent for receiver DeSean Jackson and attempt to sign his client.
One team, however, could be in the way.
According to Josina Anderson of ESPN, the Tampa Bay Buccaneers could be landing spot for Jackson.
Why?
I'm told #Bucs could be a posb destination for impending FA WR Desean Jackson. Understanding is Jameis Winston has an existing rapport w/ DJ

— Josina Anderson (@JosinaAnderson) February 21, 2017
Jackson, who finished with 56 catches for 1,005 yards and four touchdowns last season for the Washington Redskins, was released by the Eagles in 2014 because of off-the-field issues.
Despite the bad breakup between the two, multiple reports have indicated the Eagles will be interested in signing Jackson this offseason if he does hit the free agency market.
Jackson has tried to play coy about the the possibility of returning to Philadelphia, but he has never shut down the idea.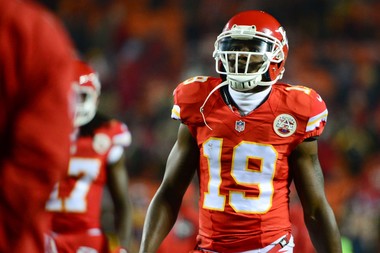 "[Returning] definitely would be a great story or ending, I guess you could say," Jackson said to ESPN. "Starting your career somewhere, then going to a division rival team, having the possibility of maybe going back. You just kind of think about all of that when you start somewhere, maybe you could finish it. There is just a lot of speculation of a lot of thoughts. It all sounds good, but you really never know until the final decision is made."
Jackson did not have many offers the first time around when he was released by the eagles, but that is expected to change this offseason.
In addition to the Buccaneers, it would not be surprising to see the Los Angeles Rams go after Jackson, as they are now coached by Jackson's former offensive coordinator with the Redskins, Sean McVay.
The Rams enter this offseason with roughly $40 million in cap space, considerably more than the $3.5 million the Eagles are set to have. Like the Eagles, the Rams have a need at receiver, and could lose Kenny Britt — their top receiver from last season — to free agency.
Also like the Eagles, the Rams have a young quarterback in Jared Goff that they need to surround with skill position players. Bringing in Jackson, who already knows McVay's offense, would give the Rams a receiver that could not only help the other receivers learn the offense, but would be ready to go from the first day of practice.
Many of the same things could be said for the Buccaneers, who need to add talent at receiver, and have $61 million in cap space.
The Eagles, on the other hand, have just $15.2 million in cap space, among the lowest totals in the league.