SPORT
Phil Gould says Wests Tigers have some big calls to make after Jason Taylor's sacking
Just for a moment, forget about the Robbie Farah versus Jason Taylor drama from last year. Forget the arguments over who was right and who was wrong in this instance. Try to ignore the public venting of frustration from people associated with the club this week as they look to settle old scores following his sacking.
All these arguments will rage on for a time.
More importantly, the club needs to decide what it's going to do for its immediate and long-term future. They can't change the past. All they can control now is the future. They have some big decisions to make.
For me, yesterday's sacking of the West Tigers head coach Jason Taylor raises some big questions.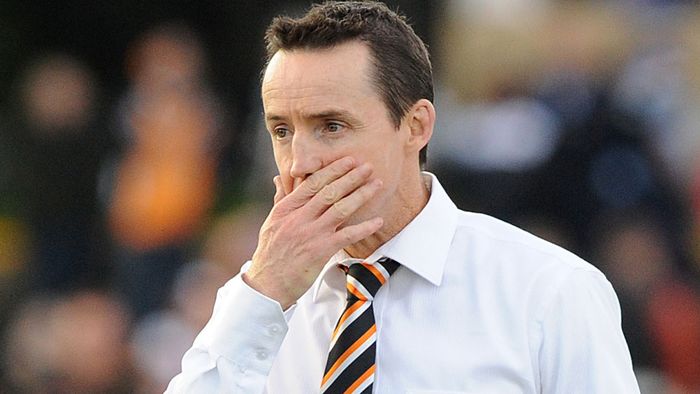 Wests Tigers coach Jason Taylor was sacked only three rounds into the 2017 NRL season after two disappointing performances. (AAP)
Now the West Tigers club has sacked their Head Coach Jason Taylor, will their four young marquee players, Aaron Woods, Mitchell Moses, Luke Brookes and James Tedesco agree to terms to extend their contracts beyond season 2017 with the club?
Champion mare Winx has made it 16 wins in a row and racked up her 11th Group One win in heavy conditions at Rosehill in the George Ryder Stakes.
Does the club even want them now? Do they persevere with negotiations for all these players given these kids have procrastinated all summer about committing their loyalty and long-term future to the club? Players even spoke publicly last week about their concerns on who will coach the team into the future before they could decide. Did anyone happen to notice if they stated they wanted Jason Taylor to be head coach or not?
Does the club simply wipe the slate clean and start again? Do they allow all these players to move on and rebuild the club from the ground up? Crikey, these players have been doing themselves no favours with their performances on the field over the past couple of weeks. Are they passionate about playing for the Tigers?
At the press conference, yesterday afternoon, the club chairman and CEO declared that the decision to remove Taylor from his position was based purely on the poor form of the team over the first three weeks of this year's competition. They declared that their decision to sack Taylor and replace him with an interim first great coach was in the best long-term interests of the West Tigers club.
It's a fact that the Tigers have been belted in the last two appearances by a combined score of 82-8. Whether this two-week period is enough of a sample for the Board to decide that things just weren't improving sufficiently enough under this coach, is open to conjecture. However, these people are in and around the club and will have a sense of the environment that currently exists.
More likely though is the scenario that frustration over not being able to get their marquee players to commit to new contracts may have had far more influence over the club's decision on the head coach.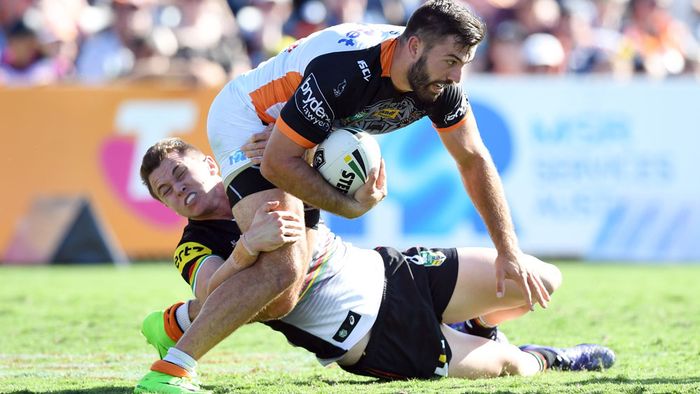 Wests Tigers fullback James Tedesco (pictured with ball), Aaron Woods, Mitchell Moses and Luke Brooks have yet to re-sign. (AAP)

If the club has decided to part company with the head coach because their marquee players would not commit to re-signing with the club, then this sets a dangerous precedent. Surely players should not be deciding who coaches the team.
I feel sorry for the Wests Tigers fans. They must be in a world of hurt right at this moment.
They have had to watch from the sidelines for nearly a year now as the continuing sagas in and around their club have been played out in the media for all to see.
It pretty much started with their club legend, Captain, and one of the most favourite Tigers players of all time, Robbie Farah, being dropped from the first-grade team early last season. His ongoing rift with the head coach Jason Taylor eventually became untenable and a decision was made late last year that Farah would be leaving the club.
Despite reports at the time that it was mainly "culture" or "form" issues that led to coach Jason Taylor recommending his removal, the truth of the matter is that Robbie Farah's predominantly back-ended playing contract was the major reason the club was looking to remove him from their playing roster.
The club felt they were unable to recruit or retain players as they would like, because Farah's deal was weighing heavily in their salary cap and restricting their future options.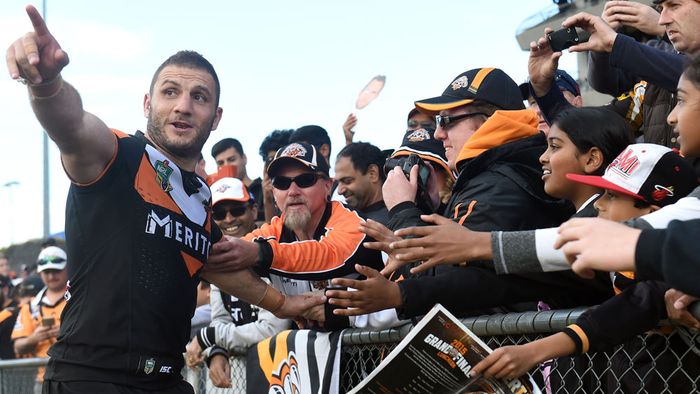 Wests Tigers' decision to move veteran hooker Robbie Farah on caused heartache for the club's fans. (AAP)

I think most fair-minded people understand that such scenarios will arise in most NRL clubs at one time or another under a salary cap system. These are never easy decisions for a football club to make and tough time for all concerned. The fact that Farah was a long serving player and one of the most popular with Tigers fans in their club history, stirred an emotional response from their faithful, placing the head coach and management under intense pressure to produce on-field results to justify this very tough decision.
People have differing opinions on whether the club is handled the situation as well as they could.
I guess for most fans the light at the end of tunnel here, was the hope that removing Farah's big contract from the salary cap would open the way for the club to re-sign their four best young players in Aaron Woods, Luke Brooks, Mitchell Moses and James Tedesco. If the club could just guarantee that these four talented players would be a part of the long-term future of the Tigers, then perhaps the short-term pain was necessary to guarantee long-term success.
The problem for West Tigers management is that ever since Farah departed they have been no closer to securing the prized signatures of these four talented players.
Another consideration for me is that surely these for young players would understand the enormity of the decision to remove Robbie Farah from the club. Surely, they understand that the club made this difficult cut, in the hope it would enable them to re-sign all these young players. Do these players respect the price the club has paid to help secure their services? If in fact the sacking of Jason Taylor is yet another offering on behalf of the club to get these players to commit, will Jason Taylor sacking finally do the trick?
When I'm negotiating a contract for a player to sign with our club, the one thing I like to hear from a player is that he wants to be with your club. Is this player just about the money? Or does this player have a passion to play for your club?
If I don't get that feeling, I become very disinterested in the conversation, very quickly.
Personally, if I was the West Tigers, I'd wipe the slate clean and start again. But that's just me.