SPORT
Ranking Philadelphia Eagles' 10 Most Important Contributors in 2017
Much to the delight of the Philadelphia Eagles, a countdown of their most important players going into the 2017 season is much easier to stomach than it would've been just a year ago.
The Eagles are one season into a new era, led by head coach Doug Pederson and quarterback Carson Wentz, with general manager Howie Roseman settling in with his second offseason back in control of the football operations. Despite various speed bumps that could have prevented a positive offseason for the Eagles, Roseman and crew did great work re-assembling the roster and addressing weaknesses.
While last year's unit appeared focused on a small-scale rebuild and forging a new identity on both sides of the ball, the project will begin to take shape in 2017, as they've pieced together a roster capable of contending for the NFC East. A 7-9 season won't be accepted this time around, with Wentz finally having an impressive set of receivers at his disposal and the defense clearing up its biggest question marks.
With that said, the season won't be transcendent unless a number of key contributors make their presence felt and elevate the team to big wins. So let's count down the most important players to the cause as we inch closer to training camp and the preseason.
10. Derek Barnett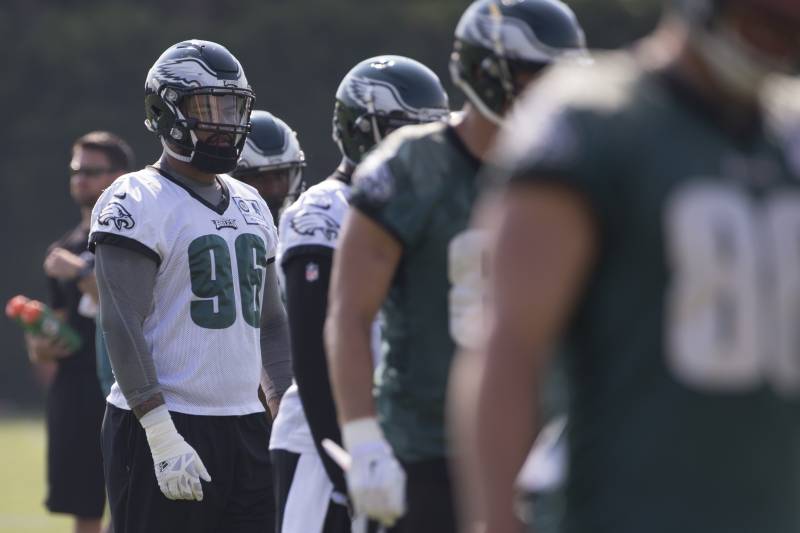 No. 10 is probably the least amount of credit that rookie Derek Barnett will receive in terms of his importance to the Eagles for the rest of his tenure in Philly.
The team's first-round pick in the 2017 draft checks virtually every box and fits every need the Eagles had at pass-rusher entering the offseason. The former Tennessee standout has an array of skills to get to the quarterback, displaying top-notch effort on every snap and mixing between a combination of versatility, strength and quickness to break through one-on-one matchups and collapse pockets.
Standout Eagles tackle Lane Johnson has given some rave reviews on Barnett after facing him during team drills, per Matt Lombardo of NJ Advance Media: "I thought he had the best lean in the draft. He was compared to Myles Garrett. His get-off might not be as fast as Garrett's, but his lean and his bend is probably the best I've seen in a while. He's a great pickup for us."
Barnett is a rookie who is joining a unit already bolstered by the signing of Chris Long and the presence of Brandon Graham and Vinny Curry. He'll have to showcase his skills plenty before Week 1 to get on the field for a majority of the defensive snaps, but considering his huge potential and what he's already shown, fans should like Barnett's chances to become a regular impact-maker up front.
9. Jordan Hicks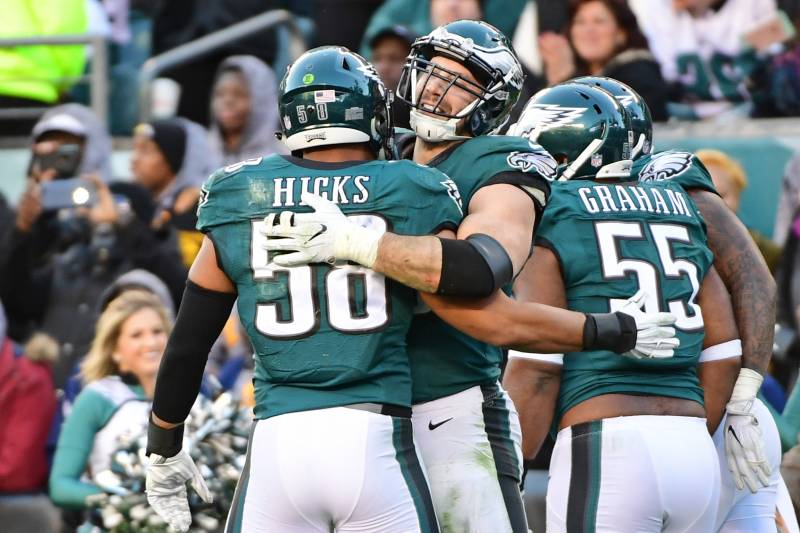 It's not fair to label middle linebacker Jordan Hicks as an underrated player on the Philly defense, seeing that he finished second on the team in tackles last season and essentially quarterbacked the unit. But his impact could reach even higher levels in 2017.
Hicks is entering his third year in the league, and he's improved mightily over the course of each of the first two seasons. With seven interceptions and four forced fumbles during those campaigns, he's proved to be a ball hawk with great intangibles and instincts that are so crucial from a middle linebacker in a 4-3.
The 25-year-old did suffer a slight setback this offseason, breaking a finger during his honeymoon, per Howard Eskin of SportsRadio 94WIP, but the estimated four-week recovery should have him ready to go for training camp.
Hicks has formulated a fantastic pairing in the middle of the defense with strong-side linebacker Nigel Bradham, and both of them should see the field for virtually all of the team's defensive snaps. But it's Hicks who will be getting teammates in position, barking out orders and reacting first to opposing offenses' play calls.
8. Rasul Douglas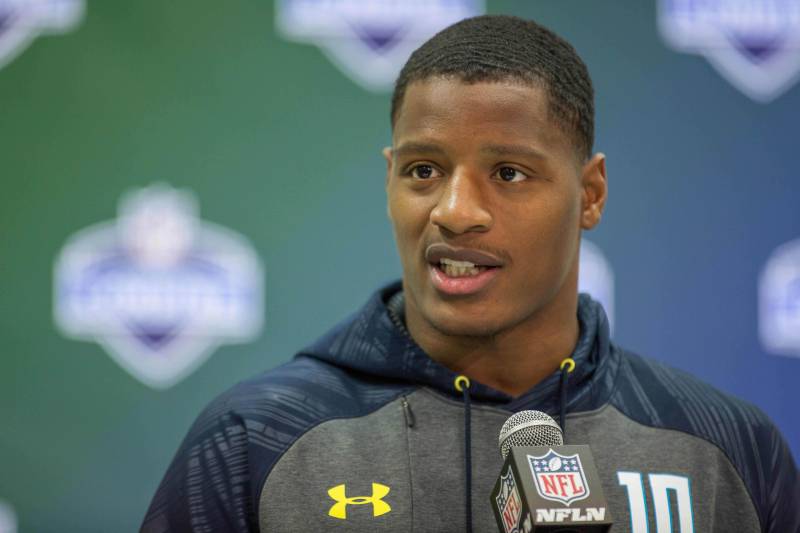 Former West Virginia corner Rasul Douglas became the third Eagle selected in the draft and the second cornerback taken by the team, but the writing is on the wall for him to be the biggest-impact rookie throughout 2017.
Second-round pick Sidney Jones' recovery from Achilles surgery is going to be a long-term deal that the Eagles won't be keen on rushing, but Douglas enters the fray healthy and ready to shine. New Philly wideout Alshon Jeffery, who has been lining up against elite NFL cornerbacks for his whole career, sees something special in Douglas, per Martin Frank of the Delaware News Journal:
"I look for him to have, my prediction, is probably to say about three to five picks this year. I believe he can do that. Maybe more. We'll see. The sky is the limit for him. He's already pretty good. He's going to be a good corner in this league. He has just got to keep working, keep learning from what his coaches tell him."
The lack of proven bodies at corner only amplifies the need for Douglas to have a big year, as Jalen Mills, Patrick Robinson and Ron Brooks are competing with him for starting spots. The Eagles obviously drafted Douglas early to be an immediate contributor, and just how well he does on the perimeter will have ripple effects on the rest of the defense.
7. Brandon Graham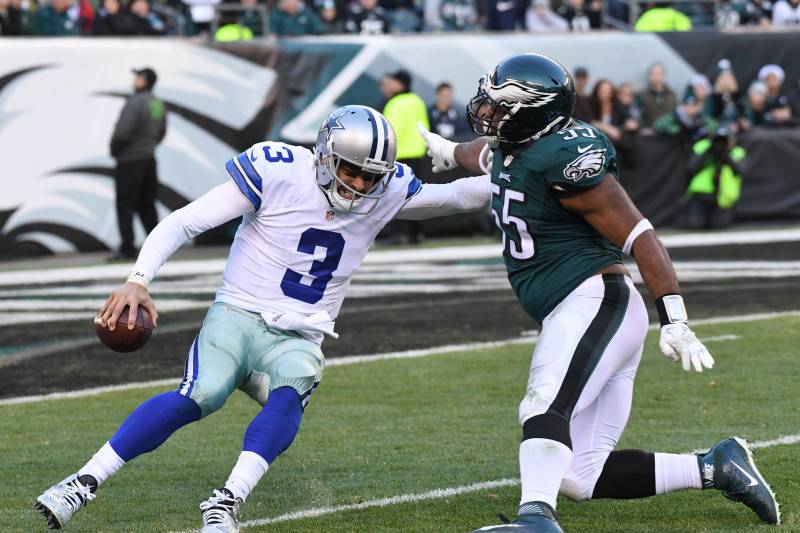 As the only Philadelphia pass-rusher who isn't coming off a disappointing season or just entering the league, plenty of pressure is on Brandon Graham to continue excelling on the edge.
Graham provided virtually the only consistent pass-rushing presence throughout the 2016 yet still only produced 5.5 sacks, as the rest of the unit struggled and left him susceptible to extra attention from offensive lines. That's no longer an excuse, as Barnett, Long and Curry should be firing on all cylinders to start 2017.
The best way to nullify a weak secondary is to employ a disruptive pass rush, and that appears to be the Eagles' primary focus with a suddenly stout group of defensive ends entering the fray alongside Graham. As a result, one would assume the unit has been called out to step up its play considerably from a year ago.
That will start—and ultimately end, with just how much of Graham's stellar play from 2016 translates into the new season.
6. LeGarrette Blount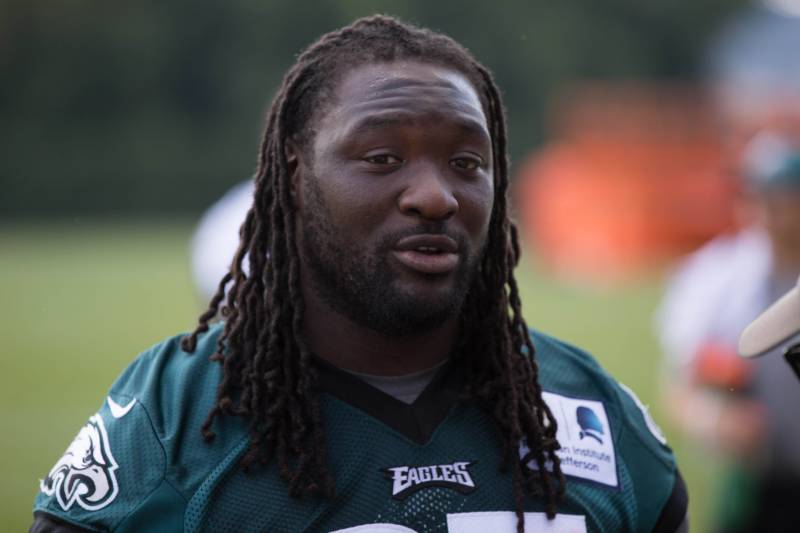 Philly will strut out a significantly different backfield unit heading into 2017, and the face of that movement is pictured above.
Some have Former New England Patriots back LeGarrette Blount pegged as a one-trick pony, expected to be simply a short-yardage back who can get his team into the end zone from a few yards out and move the chains on 3rd-and-2 situations. That's a pretty unfair judgment considering he carried the ball 299 times for 1,161 yards with 18 touchdowns last season in New England (each a career high).
Blount obviously won't get near those numbers in 2017, but he won't need to in a West Coast offense with a wealth of passing options. He will, however, need to be the primary back in a unit that includes unproven rushers like second-year pro Wendell Smallwood and rookie Donnel Pumphrey.
Fans who have followed Blount's career know what he will provide on third downs, but what he's able to do on first and second downs will define the backfield's production level in 2017. With Wentz expected to take a big step forward in the coming season, having an explosive rushing attack could take the top off of defenses, and Blount will play a huge role in that.
5. Jason Peters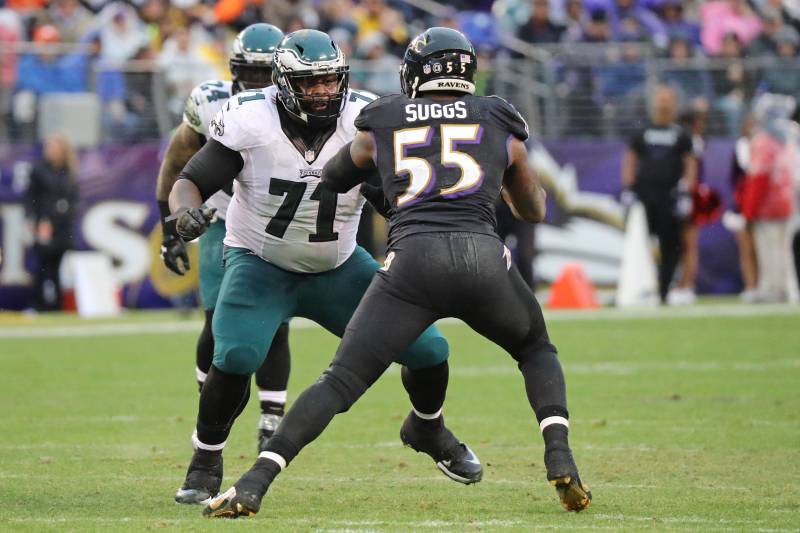 Longtime left tackle Jason Peters already made an impact on the 2017 season by lowering his cap hit as part of his extension through 2019. Now, the Eagles need him to make his usual impact on the field.
While Peters has been one of the best players in the league at one of the hardest positions for his eight years in Philly, Father Time is catching up to him. At 35, he'll undoubtedly be one of the oldest starting left tackles in the league.
Despite getting up there in age, expectations aren't any lower, with Pro Football Focus rating the Eagles as having the NFL's best offensive line heading into the season. While he's only one-fifth of that, Peters assumes the most critical position in keeping Wentz's blind side protected; he could effectively plummet the team's season with one bad play and a nasty hit on the second-year signal caller.
As if that's not enough pressure, Peters also has young tackles Dillon Gordon and Halapoulivaati Vaitai gunning for playing time behind him should he struggle mightily and regress during his 14th season in the NFL.
4. Malcolm Jenkins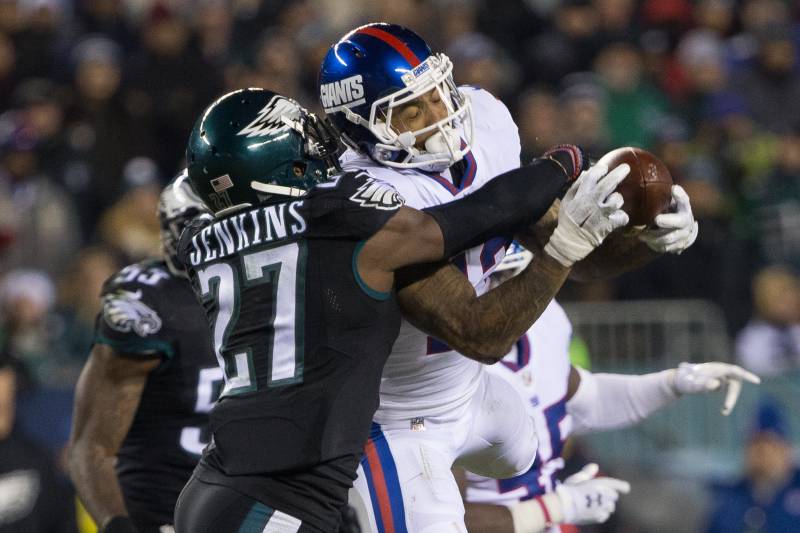 Outside of a daunting pass rush, the best help a defense can give to a green secondary is stellar play from the safeties. Fortunately, the Eagles have one of the best in the business.
Malcolm Jenkins is the heart and soul of the Philadelphia defense, which made the need for him to address offseason trade rumors back in late March, per Tim McManus of ESPN, all the more frustrating for fans. One positive that may have come from it, however, was a reminder of just how important Jenkins is to the cause.
Jenkins can do it all in the secondary, whether it's playing center field in deep coverage, attacking the line of scrimmage as a box safety or filling in at cornerback. That versatility has never be more important to the Eagles than it will be in 2017, with the cornerback situation murky at best and almost certain to cause more problems before progress is made with the young core of corners.
The 29-year-old's pairing with Rodney McLeod proved fruitful a season ago, and the Eagles will need more of the same if their defense is going to take a step forward in 2017.
3. Fletcher Cox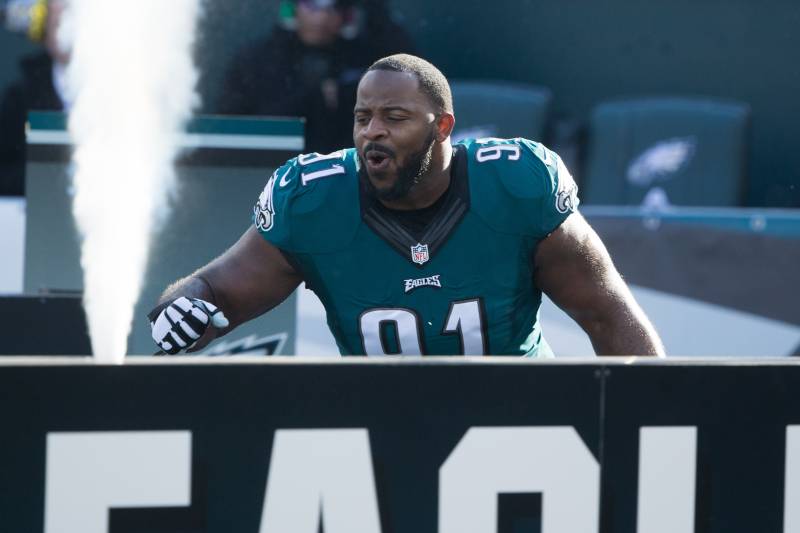 Defensive tackle Fletcher Cox's enormous payday last offseason was undoubtedly well-deserved, but a lack of other disruptive presences up front somewhat negated his ability to wreak havoc in 2016.
That won't be an excuse for anybody up front in 2017 but can be echoed even louder for Cox. He's the centerpiece of a scary front four that possesses valuable depth that wasn't there a season ago.
Cox will be the second-highest-paid defensive tackle in the league in 2017, right behind Ndamukong Suh, according to Spotrac. He did lose Bennie Logan as his interior partner, but the Eagles replaced Logan with perhaps an even better partner in former Baltimore Raven Timmy Jernigan, who is entering a contract year and should be intent on impressing during his first season with Philly.
If Cox can continue to play at the level that requires constant double teams and extra attention from interior offensive linemen, it will allow edge guys like Barnett, Curry and Graham to tee off. Simply put, Cox will elevate Philly's defense to being one of the league's best units if he plays up to his price tag.
2. Alshon Jeffery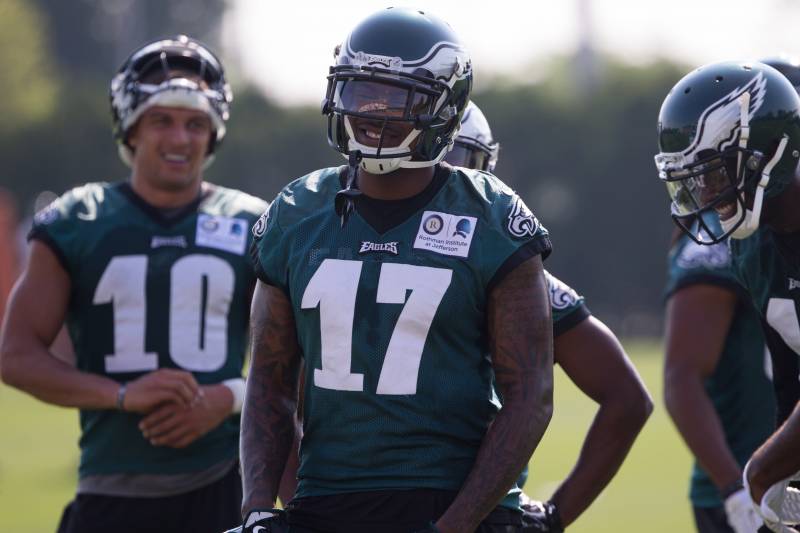 Out of the four Eagles newcomers who cracked this list, it should come as a surprise to no one that Alshon Jeffery tops them all.
The former Chicago Bears wideout made one of the biggest splashes of any free-agent signing when he inked a deal to join forces with Wentz and become Philadelphia's most dangerous offensive weapon. Most importantly, he signed a one-year deal that nullifies most of the risk associated with signing a player with a history of injuries and a PEDs suspension.
The Eagles bolstered the receiving unit beyond Jeffery by signing deep threat Torrey Smith, and the emergence of Nelson Agholor in team drills this offseason (hold your breath)—along with other options like Jordan Matthews and Pumphrey in the passing game—will keep Jeffery from being focused on solely. Philly had little in terms of balance in the passing attack last season, and now they have plenty of it.
Any good young quarterback needs a master of a contested-ball wideout to rip down jump balls, move the chains and catch touchdowns. The Eagles this offseason made sure that Wentz has one, and it's up to Jeffery to prove he's worth having around for the long term.
1. Carson Wentz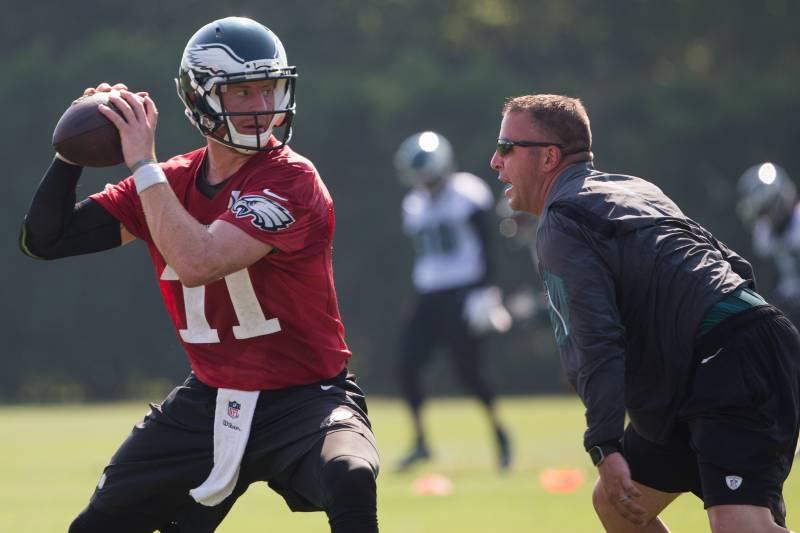 Shocking, right?
It goes without saying that quarterback play is by far the biggest precursor to success (or a lack of it) for any team in today's NFL, and that's why the trade up in the 2016 draft to select Wentz was beyond worth it. Even while playing with a horrible arsenal of weapons and having to do far too much on his own, Wentz completed 62.4 percent of his passes and threw for nearly 3,800 yards during a season he was expected to begin as a third-string quarterback.
Fast forward one offseason, and Wentz has an eyebrow-raising weaponry surrounding him with a dynamic run game and a Pro Football Focus-dubbed league-best offensive line protecting him.
Wentz is just 24 and entering his second season in the league, which makes him incredibly young compared to the best players at his position. Growing pains should be expected as he learns what his new offense is and isn't capable of, and patience will be a virtue for the eternally impatient Eagles fans who are awaiting a real championship run.
Should he play beyond his years and elevate his production to the level the team is aspiring for, however, the limits are boundless for the 2017 Philadelphia Eagles.